The wisdom of the Tarot is presented below. You may want to save or print this page if you would like to ponder its wisdom later.
Past
Refers to recent events that just took place as well as influences and actions that lead to the present situation.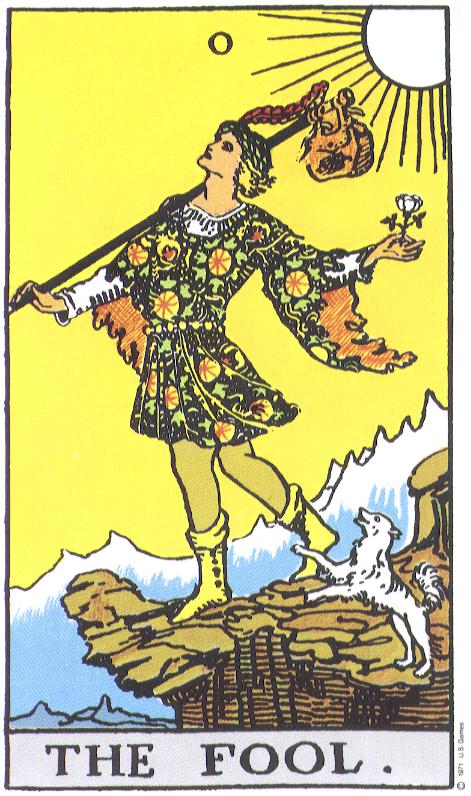 The Fool
The Fool is the first card in the Major Arcana, and is given the number zero to indicate that it is the very beginning—before everything. Many people misinterpret the Fool, believing its message to signify absurdity or moronic behavior. On the contrary, the Fool is a symbol of the Creator, the "All That Is", or however you envision deity. He symbolizes the trickster aspect of divinity: God's sense of humor, if you will. The Fool seems to be stepping off a cliff to certain doom. He turns his face and eyes upward, not noticing the fate that awaits. In his satchel, he has what little he needs for his journey. His companion, a little white dog, runs along at his heels. The dog can be seen as humanity's most extreme attitudes toward divinity: either seen as following blindly along, or lacking the firmness of belief necessary to take the step the Fool is about to make, and therefore, trying to hold him back.
The Fool in your past indicates that the root of your issue lies in a time when you needed to look at your situation with optimism. You had to make a leap of faith, taking only the baggage that benefitted you, with the ultimate trust that you would make it alright. You went beyond your boundaries, and worked past your fears. From this experience, you learned to believe that anything is possible.
Present
Represents what is happening right now. This may be what triggered you to seek out a reading or may represent something you're unwilling to see.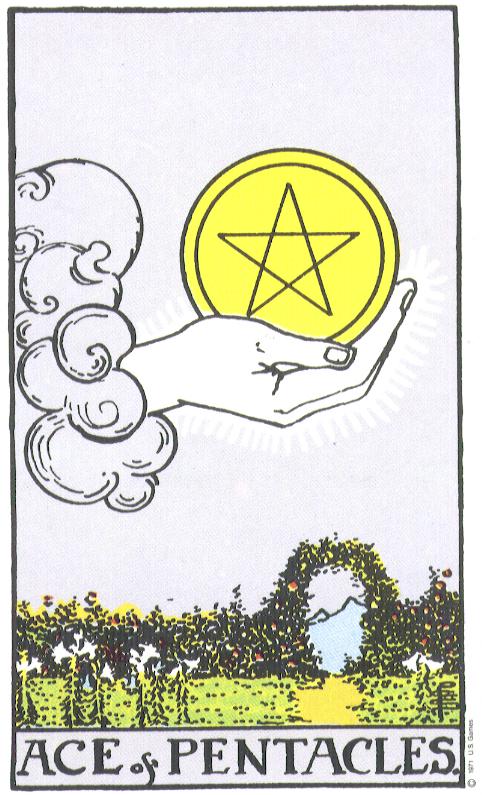 Ace of Pentacles
The hand in the Ace of Pentacles bestows its blessings in a garden full of a variety of delights. Earth's bounty is physical and comes in the form of tangible pleasures. Patience brings prosperity, and the one who has worked hard on this garden now takes pride in its beauty and abundance...good tending yields good results. The floral gate in the background, reminiscent of the ring surrounding the self-actualized person on the World card, can indicate a door of opportunity for new business, property, or other practical assets opening up for you.
Future
Describes what is just around the corner. It's an official "heads up" about where the situation is heading.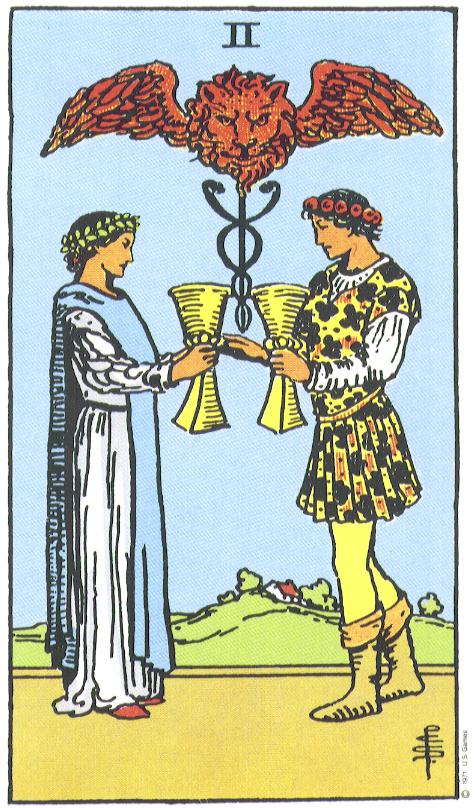 Two of Cups
Love and deep friendship are suggested by the Two of Cups. You may soon be entering into a fulfilling love relationship. This union will be based on passion and strength, symbolized by the lion, and a healthy attitude, suggested by the Caduceus, or wand of medicine. The man and woman facing each other, staring into one another's eyes, suggest the deeper sense of understanding that exists between them. You will probably feel an understanding with this person that you have felt with few others. You may even be thinking of or discussing marriage.
We hope you enjoyed your reading. For a more personal analysis of your situation, call one of our gifted psychic phone readers below!
* Free minutes available only to first-time callers.
Reviews From
Satisfied Callers
Click Below to Read More!
Major prediction from Kydra came true, she predicted accurately for me about my promotion at work taking place real soon. I at first thought it wasn't and possibly going to take awhile. I was sure wrong and Kydra predicted it correctly within the timeframe she said. Love her energy and am grateful to have found her! — [more…]
Omg, this was amazing! No better way to get rid of the old unanswered questions, uncertainties, and truth hidden behind the veil than to talk to this lady. Hope connected with me really quickly, and helped me target all my concerns and make a plan to progress and be victorious over my challenges. She was also really kind an honest. — [more…]
Sophia is just amazingly talented and she always helps me see the best out of my situation — [more…]
Really enjoyed chatting with her I couldnt get enough she was wonderful... — [more…]
Picked on my situation very well spot on with everything waiting to see if the person will contact me & I would like to know what I have to do to get rid of that situation I was telling me about — [more…]