Have you found your soulmate? What's on your lover's mind? Are you on the right path in your career? Call Kydra Sommer and get the answers you need!
Kydra Sommer
Get a Free Three Minute Reading with Kydra!
*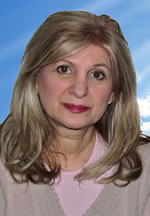 Renowned Psychic for 25 years, t.v. and radio, that worked on top psychic lines, read 1000's people from all walks of life, and countries including celebrities, doctors, lawyers, psychologists as well as corporations!I'm from a descendant of a long line of Russian Psychics. She has helped authorities find missing children a professional master of tarot, chancellor, healer, medium. Career as a Clairvoyant who did tea readings(tasseography) also gifted with the ability to connect to energy through your vibrations, and Saint Dominique as my guide. Viewing the readings as a therapy-like experience, you get real answers to your questions and helps you develop direction on the path to achieving your deepest desires. Can see deep into the situations going on, spiritually and psychically, offering an in depth reading and analysis of your situation, or area of concern, together will attempt too resolve it, a realistic prognosis to covering all questions whether it's for love, finance, or career.
With healing energies, and reading you will feel calm, centered, and clearer about all situations, with a
positive two fold end result, either to uncover a problem area, and or to help a person with some suggestions, be
it a self help book, etc. or give the client all the tools necessary for their own discovery of possible solutions.
Love&Light
Education and Experience
Born psychic, worked on top lines for 25 years, studies in religions and metaphysics 25 years, self mastery courses, and spiritualism!
Kydra Sommer is
Available

Now!

Click the "Call Now" button to connect to Kydra right away!

$2.99/min - First 3 Minutes Free!*
* Free minutes available only to first-time callers.
Praise For
Kydra Sommer
Click Below to Read More!
Kydra is a wonderful psychic. He tells you the truth about everything. He gives you great answers and advice. — [more…]
Kydra is a wonderful psychic. He tells you the truth about everything. He gives you great answers and advice. — [more…]
Have been using ands calling Kydra, in like forever, years. I have tried others... but she's the only who comes close to being true and real. She has no hidden agenda... she just truly cares. She's very much on point most of the time. — [more…]
Keydra always right. She tells me the truth all the time. She is very good at what she does. — [more…]