Have you found your soulmate? What's on your lover's mind? Are you on the right path in your career? Call Pandora Pappas and get the answers you need!
Pandora Pappas
Get a Free Three Minute Reading with Pandora!
*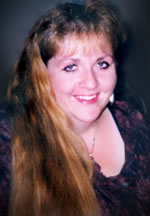 I am psychic and grew up with the acceptance of foreknowledge and spiritual connections. My birthname, Pandora, means 'all gifts" and acknowledges both of my gifted grandmothers. I am a 3rd generation clairvoyant psychic advisor with the highest order of spiritual connections. For the past 20 years, I have been counseling and guiding thousands of seekers to find their true pathways through life toward enlightenment.
Together we can find answers to your questions: past, present and future. During your session, I connect with your spirit guides in order to get information for you. I hope that my calming influence and support will help you know what to perceive from the future and how best to move through it.
Please join me in preparation for our meeting by taking a moment to breathe deeply, quiet your mind, and try to relax. My routine includes meditation, visualization and cleansing my aura and reading space.
May our meeting be Blessed,
Pandora
Pandora Pappas is
Available

Now!

Click the "Call Now" button to connect to Pandora right away!

$7.99/min - First 3 Minutes Free!*
* Free minutes available only to first-time callers.
Praise For
Pandora Pappas
Click Below to Read More!
This review is long over due. Pandora has been guiding me for years. Her encouragement, accuracy and connection with light has helped me to grow in my career and relationships. I've recommended her to friends and family and all have had the same experience. Thanks Pandora! — [more…]
She's wonderful, gives great advice, really just knows how to explain things so I understand how I need to proceed. Thank you Pandora! — [more…]
She was quick and accurate with all she said. I will definitely continue coming back. I trust in her predictions! — [more…]
Thank you, Pandora! I have consulted with Pandora for a few years now and am never disappointed. She has valuable insight and helps me feel reassured. I'm looking forward to see if what she predicted comes to fruition. — [more…]