Have you found your soulmate? What's on your lover's mind? Are you on the right path in your career? Call Leanne Marrama and get the answers you need!
Leanne Marrama
Get a Free Three Minute Reading with Leanne!
*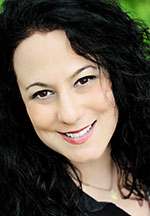 A Salem sorceress who sees into the hearts of men, Leanne Marrama is a natural clairvoyant who uses the Tarot with her own innate psychic ability to provide you with the answers you seek! She has read the cards for more than 18 years, a gift passed down to her by her Italian Strega grandmother.
Leanne realized early on that she could tune into people through the sound of their voices. She is able to pick up information quickly and easily this way, seeing past illusions and falsehoods to the truth. Her warm, friendly manner and sense of humor make her easy to talk to. She believes in working with the whole person, viewing the big picture through her psychic vision. Clients describe her as sensitive, empathic, and down-to-earth. This has made her one of the most sought-after readers at the Annual Psychic Fair and Witchcraft Expo in Salem.
Education and Experience
A practicing Witch and member of a prominent coven, Leanne is able to work with a crystal ball to scry into the future. She is also a spirit medium, able to listen for the voices of the spirits and loved ones who have crossed over. She credits her spiritual teachers with discovering her aptitude for these skills, preparing her for the work she has chosen to do full time: helping people who need guidance.
Leanne was the feature of an entire episode of TLC's What Not to Wear and has also been featured on Channel 7, MyTV, The Boston Globe, The North Shore Sunday, and The Salem News.
Leanne Marrama is
Away

Right Now.

But you can arrange a call back and your phone will ring when Leanne becomes available!

$6.99/min - First 3 Minutes Free!*
* Free minutes available only to first-time callers.
Praise For
Leanne Marrama
Click Below to Read More!
Advisor was very professional, friendly, very knowledgeable. — [more…]
Thank you Leanne! Please light a justice candle for me! I will keep in contact. Mark — [more…]
Leanne has been a source of comfort for a long time now. She has been true and honest in her readings. A million stars. — [more…]
She is so amazingly accurate! I feel I don't waste my money nor time with her. — [more…]