Have you found your soulmate? What's on your lover's mind? Are you on the right path in your career? Call Robert C Deschene and get the answers you need!
Robert C Deschene
Get a Free Three Minute Reading with Robert!
*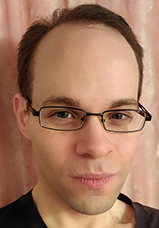 Whether it's love, money, health, or happiness, Robert uses the profound forces of the elements, the stars, and the energies of color in tandem to convey cosmic wisdom for those who seek insight and empowerment through all of life's challenges. Guided by what he likes to call his "Alchemic Intuition", Robert looks to the patterns of Hermetic knowledge to help others find their recipe for growth, success, and well-being. There is no topic too taboo or question too arbitrary with Robert, who is always willing to give the honest and humanistic answer everyone deserves.
Education and Experience
Over 20 years experience in studying the teachings of Hermetic metaphysics. A popular go-to consultant at local functions in the state of Massachusetts, ranging from Malden, Cambridge, Sommerville, and even a member of the seasonal roster at Omen's Psychic Fair in Salem.
Robert C Deschene is
Away

Right Now.

But you can arrange a call back and your phone will ring when Robert becomes available!

$1.99/min - First 3 Minutes Free!*
* Free minutes available only to first-time callers.