Have you found your soulmate? What's on your lover's mind? Are you on the right path in your career? Call Gina Faye and get the answers you need!
Gina Faye
Get a Free Three Minute Reading with Gina!
*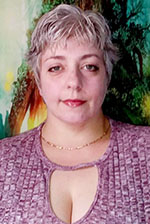 Gina is a gentle Intuitive Empath and energy reader as well as a Spiritual Life Coach with a lifetime of personal experience, and four years of professional service. She provides a loving, non judgmental space in all of her sessions so feel free to relax and know that you are loved. Gina has worked with clients the world over in person, around the web, and in prominent apps in the Google Play store. Areas that she specializes in are Love and Relationships, Life Path, and Spirit Path readings. Gina will to help you identify and reach your goals, solve problems, and become the best version of yourself. That is her highest aspiration.
Education and Experience
* five star professional Advisor
• Certified Spiritual Life Coach through Transformation Academy
• Master reader in southern style cartomancy, tarot, and runes.
Gina Faye is
Away

Right Now.

But you can arrange a call back and your phone will ring when Gina becomes available!

$4.99/min - First 3 Minutes Free!*
* Free minutes available only to first-time callers.