Have you found your soulmate? What's on your lover's mind? Are you on the right path in your career? Call Mohale Matsapola and get the answers you need!
Mohale Matsapola
Get a Free Three Minute Reading with Mohale!
*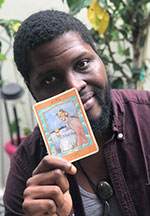 I provide spiritual guidance via tarot.
Education and Experience
I have been reading for 15 years.
Mohale Matsapola is
Available

Now!

Click the "Call Now" button to connect to Mohale right away!

$5.00/min - First 3 Minutes Free!*
* Free minutes available only to first-time callers.