Have you found your soulmate? What's on your lover's mind? Are you on the right path in your career? Call Bruce Hoskins and get the answers you need!
Bruce Hoskins
Get a Free Three Minute Reading with Bruce!
*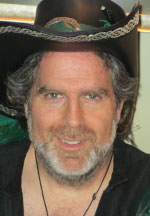 Bruce Hoskins is an intuitive Psychic, Numerologist, and Clairvoyant. He specializes in cards (Tarot, Oracle, playing cards), Palmistry, Numerology, Past Lives, and Astrology. Relationship readings (singles and couples) are one of his strengths. His direct connection with dragon wisdom and energy results in his ability to provide highly introspective readings to those in need of guidance or in search of answers.
Do you need help in making a decision, to clarify a situation, or achieve insight into a problem? Are you looking to share the light of gifted intuition into the mystery of your life's path? Let Bruce use his gentle abilities of psychic gifts to help you and encourage you to move in a positive direction and face the challenges that may lie ahead. Readings can be a very personal and sometimes emotional experience. When you have your psychic reading with Bruce, you will receive his full empathic attention.
Education and Experience
Bruce Hoskins has more than 25 years of experience as a psychic reader. Bruce's love of nature and his formal education have complemented his innate psychic abilities. Having Bachelor of Science Degrees as an engineer and chemist, he has worked over 30 years as an environmental engineer helping to restore contaminated soil and waters back to their natural conditions; the engineer is the natural numerologist in him. In addition to private readings, Bruce has led public presentations and group sessions for colleges and civic groups in Massachusetts. He is a featured psychic at many of the Renaissance Faires in New England, as well as other psychic fairs and events, including the Annual Psychic Fair and Witchcraft Expo in Salem, MA.
Bruce Hoskins is
Away

Right Now.

But you can arrange a call back and your phone will ring when Bruce becomes available!

$3.99/min - First 3 Minutes Free!*
* Free minutes available only to first-time callers.