Have you found your soulmate? What's on your lover's mind? Are you on the right path in your career? Call Debra A Sinclair and get the answers you need!
Debra A Sinclair
Get a Free Three Minute Reading with Debra!
*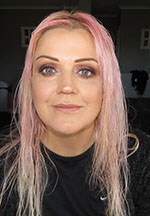 HUGELY POPULAR IN NZ AND AUSTRALIA, DEBS IS PLEASED TO OFFER HER READINGS FOR THE USA, CANADA AND UK. EXCEPTIONAL REVIEWS FROM CLIENTS WORLD WIDE CAN BE FOUND ON HER WEBSITE. SEE HER OUTSTANDING REVIEWS ON GOOGLE: DEB SINCLAIR PSYCHIC NZ
An Advanced Level Professional Psychic Medium Clairvoyant with a solid Reputation Internationally for proven consistent accuracy in evidential readings. A strong empathetic and psychic ability means you are quickly assured of a legitimate, pure connection. Readings are empowering for clients because all of the Clair-senses, remote viewing, and more are included in the reading! This wonderful ability means that she gives her clients clear, honest answers and relevant key information. Being a specialized psychic energy reader with strong empathetic qualities that she combines with her ability as a pure channel; instant fast tuning in providing intricate and relevant information. This unique reading style is much more concentrated, meaning you get a lot of specific, relevant information through in a shorter amount of time.
"Fast validation, and key points of evidential reference without lots of questions to the client, provides proof of a strong and authentic connection in psychic- medium and clairvoyant readings. It is a key factor in determining the true ability of a reader. Therefore being able to provide this immediate information via Spirit ,that is true and specific to each client, is something that I pride myself on."
Gives fast amazing detail and specific insight
Within the first minute you are given proof of a real true psychic connection
Readings consist of relevant and valid information that the client can relate to
Empowering readings using all of the clairsenses
Remote viewing with accurate descriptions
Specialist psychic energy reader, sees auras and whee energy is traveling and energetic connections
Higher Sensory Perception and ESP adds depth to your reading
Empath - feels the emotions of others and yourself
Excellent at readings peoples energy and vibes
Animal reader
A wonderful Reader whose intricate details and insight will leave you amazed, and uplifted.
HER CONSISTENT PSYCHIC ACCURACY WITH AMAZING INSIGHT IS REFLECTED BY MANY GENUINE EXCEPTIONAL REVIEWS & REPEAT CLIENTS!
You will quickly understand why this highly talented reader is often referred to by her clients as one of the best and most authentic telephone and in-person psychic readers! A RELAXED, FLOWING AND EFFORTLESS NATURAL PSYCHIC CONNECTION!
Debs is also a highly gifted Spiritual Medium and can connect you with loved ones (human and animals) who have passed over to the other side. It is best to book for these sessions.
Debra A Sinclair is
Away

Right Now.

But you can arrange a call back and your phone will ring when Debra becomes available!

$5.99/min - First 3 Minutes Free!*
* Free minutes available only to first-time callers.
Praise For
Debra A Sinclair
Click Below to Read More!
The call got cut off but she helped me tremendously! She's my go to, doesn't let me down and gives the best advice. Will be back soon! — [more…]
Debra is amazing, she calms me and has been so so accurate with everything up to now. I trust her guidance. What I love about her the most is that she tells you what she sees, exactly what she sees... there's no judgement of any kind. — [more…]
Debs is the best and clearest channel I have spoken to who picks up information so quickly and she will answer your questions before you ask them!! There is no way she could have known the things about people I asked about in my reading, and I only gave her their first names or nick names. Very impressed!!! — [more…]
Fast, accurate, specific, and kind. I loved my reading,you were so bang on with everything! — [more…]