Have you found your soulmate? What's on your lover's mind? Are you on the right path in your career? Call Anna Mitchell and get the answers you need!
Anna Mitchell
Get a Free Three Minute Reading with Anna!
*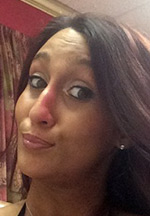 Anna is a gifted psychic tarot card reader with over 20 years professional experience. She specializes in love, Relationships, finances, and family. Anna's psychic tarot readings will see into your past, present, and future, and will answer all questions accurately and honestly. Anna will not waste your time or your money - you have questions, you deserve answers! The answers you need and the advice you seek is just a phone call away. Contact Anna Today For Insights Into Tomorrow!
Education and Experience
Over 20 years professional experience as a fourth-generation gifted psychic, Anna's gift has been passed down through many generations of her family's genealogy. She has a private practice where she has been performing psychic readings for many years. Her business is currently well-established since 2003 in the state of New Jersey.
Anna can see past the confusion in your life, giving you the answers to the questions in your mind. Anna will provide you with complete Clarity and in-depth insights.
Anna can give you the guidance and advice
you need to move past the confusion.
together you can Connect with your spirit guides and unlock the mystery of what your future holds.
Stop wasting precious time in your life wondering what the future holds,
get answers now.
One reading will answer your questions and give you the peace of mind you seek!
Contact Anna today for a consultation.
unclock the mystery of what tomorrow brings, find out what has been written in the starts for you.
Anna Mitchell is
Available

Now!

Click the "Call Now" button to connect to Anna right away!

$1.99/min - First 3 Minutes Free!*
* Free minutes available only to first-time callers.
Praise For
Anna Mitchell
Click Below to Read More!
I am very thankful for her quick, clear, and confident responses to my questions! Makes decisions easier to make and leaves me feeling hopeful about overcoming challenges. Thank you! — [more…]
Thank you again so much. I felt so much better after talking- i was SO upset and glad you see things coming back around. Look forward to following up with you in a week or so. THANKS!! — [more…]
Thank you so much, Anna, for helping me stay positive and hold on to hope. You are a blessing. — [more…]
Great reading! Anna is spot on with her information and had both the past, present down accurately and so I do expect her predictions to manifest as she described. Try her - you wont be disappointed. — [more…]