| | |
| --- | --- |
| | |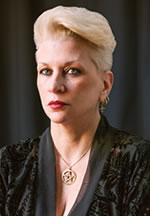 Sharon Graham was born in Salem MA, in November of 1960

With heartfelt compassion, she is able to delve into the darkest corners of your soul and help you to work through the obstacles that keep you from success.

Call Sharon when you want absolute truth, for nothing is hidden from her.
She will help you expose the skeletons in your closet, and help bury them if necessary.

Call upon Sharon to help you open the blocked doors to:

Love... and Matters of the Heart.

Wealth and Abundance

Healing... of the Body, Mind and Spirit.

Working with the Dead.

Depending on the nature of your Reading, Spiritual and Spell Work can be done for you, by her.
Or, She can assist you to find the correct items needed to do your own Work.

Sharon uses only her own blends.
She has over thirty years of knowledge with these intoxicatingin Arts for Healing, Spiritual and Devotional Works, Magic and Scrying.

Tarot cards, Candle Magic, Animal Totems, Scrying with the Smoke of powerful resin blends.
Poppets filled with herbs, roots, anointed with oils.
Not to mention her famous Oil blend, for Love.
All this and more.
Guided by the Love and Wisdom of her Ancestors.

Some say she is a Dark Witch.

Sharon Graham is a bit of a Nomad and a Spiritual Seeker.
Over the years she has gained the Love and Trust of many loyal clients, from all over the world.

Sharon is not always available, however appointments can be made.
She is definitely worth seeking.



Education and Experience
Sharon Graham has appeared in such media as:
• The Boston Herald
• The Salem Gazette
• The Boston Globe
• Boston Magazine
• Paris Cosmopolitan
• Forbes Magazine
• The Salem News
• PBS
• North Shore Sunday

Sharon Graham has read for such Salem shops as:
• Festival of the Dead
• Angel's Landing
• The Magic Parlor
• The Black Cat Book Guild
• The Crystal Chamber
• Pyramid Books
• HEX New Orleans

Sharon Graham is unavailable ... but you can arrange a call back!



$4.99/min - First Time Callers get 3 Minutes Free!*
Read Sharon's Feedback! | Leave Feedback | Email Sharon