| | |
| --- | --- |
| | |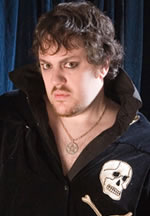 Are you lying awake waiting for that special someone to call? Tired of being alone and want to know when your true love will arrive? Want to know if this is the one? Get the truth now! Call Christian Day, a practicing Warlock from Salem, Massachusetts.

Christian has been a professional psychic for over twenty-five years, offering intuition and magic to clients worldwide and is also the founder of this website, offering talented psychics from all over the world to help people with psychic wisdom and magic. He communes directly with the spirits, drawing truth and wisdom directly from the other side. Let Christian help get you answers now!

• Learn how your lover is truly feeling about you.

• Find out when he or she will make contact.

• See when true love is finally coming your way.

• Navigate through challenges in your career.

Are you tired of ordinary psychics delivering endless predictions that never come true? Witches have been sought out from time immemorial for their psychic gifts and supernatural powers. While ordinary psychics warn of unavoidable fate, Witches know that destiny is yours to determine. If you want a lover to come back, a new promotion, or just a little magic in your life, Christian Day can help you!
Education and Experience
Christian is often called upon for his powerful insight. His many appearances include:

• Ghost Adventures
• MSNBC
• NBC Nightly News
• TMZ
• The New York Times
• CNN
• The Wall Street Journal
• The Travel Channel
• Huffington Post
• USA Today
• Biography's Dead Famous
• Fox News
• Coast to Coast AM
• Showtime
• The Boston Globe
Christian Day is unavailable ... but you can arrange a call back!



$7.99/min - First Time Callers get 3 Minutes Free!*
Read Christian's Feedback! | Leave Feedback | Email Christian