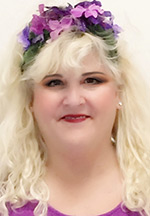 Elizabeth uses her intuitive gifts to help in Finding your Life Purpose, Romance, Relationships, Past Life Regression, Crystal Healing, Tarot Consultation, Dealing with the Death of a Loved One, Holistic Healing,Medical Intuit, Infinite Human Coaching Sessions and much more!!!!
Education and Experience
Elizabeth Monroy is a Certified Infinite Human Life Coach who combines her Intuitive abilities as a Medium, Certified Tarot Coach, Past Life Counselor, Medical Intuit, Yoga Therapy Teacher, Reiki Master, Certified Crystal Reiki Master and Teacher, Animal Reiki Practitioner, Motivational Speaker, International Author, Film Director, Producer and a Visionary Artist, with her thirty years of experience as a Mental Health Counselor and over 30 years of training under Master Spiritual Teachers. She is a member of the International Association of Life Coaches and a certified Ericksonian Hypnotherapist
Elizabeth Monroy is unavailable ... but you can arrange a call back!



$3.99/min - First Time Callers get 3 Minutes Free!*
Read Elizabeth's Feedback! | Leave Feedback | Email Elizabeth