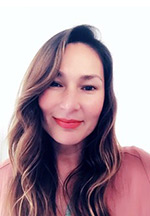 Lesa is a Psychic, Healer, and an Intuitive Coach who delivers her message from a very high vibration. She will lead you to see the light from a higher perspective with your reading. She is very in-tune and acts as a soothing balm to the soul. Her acute insights will help you gain greater CLARITY and feel at ease.

She came into this world with a purpose: to help others find love and happiness in their life. Through her travels around the world to sacred portals and mystery schools, combined with studying with teachers to master her gifts, she has developed the skills necessary to assist others on a deep level.

If you want Clarity, Direction, and Guidance in your life, Lesa is your guide. Allow her to create the future of your dreams and reveal the powerful messages that ensure you are moving in the direction of the life you would love to live. The power to manifest the happiest life is in your hands and Lesa can assist you on the path...

Education and Experience
Lesa is a Kwan Yin Reiki Healer, Psychic, Gifted Integrated Energy Therapist, Intuitive Coach, Taps onto Energy Fields, and receives clear messages from the Universe. A spiritual guide and Daughter of the Casa for John of God in Brazil.
Lesa Ferguson is unavailable ... but you can arrange a call back!



$3.33/min - First Time Callers get 3 Minutes Free!*
Read Lesa's Feedback! | Leave Feedback | Email Lesa