| | |
| --- | --- |
| | |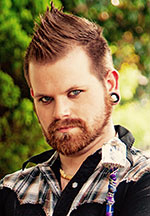 Need insight into your love Life? Want to know about your next career step? Jesse Gillespie has been a practicing warlock since 2003 and has been reading tarot cards for even longer. Jesse is a clairvoyant and clairsentient psychic which he combines with the tarot to allow the fullest potential of the client's reading. With his psychic talents and magical knowledge, Jesse will be able to guide you to a greater outcome along with spells and charms which he will walk you through. Since the dawn of magic, Witches and Warlock have stretched out their magical hands to help those who have sought out their talents. Not much has changed over many years. Jesse Gillespie also offers a verity of magical workings. Being that he is a Warlock he is well versed in the magical art that is Witchcraft. Whether he will whisper to the spirits and help you reach your dreams, or tell you the correct ingredients to carry to achieve your goals. Does that special someone just need that little push in your direction? How about a charm to keep on hand to attract a little bit more money in your purse? The possibilities are virtually endless when magic is afoot!
Prepare to have a truly magical experience when you call.
Education and Experience
Jesse's great grandfather was born with a caul veiled over his face which is said to be the sign of a true psychic and magical person. Jesse believes that this gift has been passed down to him and he has used this gift for over a decade to help those in need.
Jesse Gillespie is unavailable ... but you can arrange a call back!



$3.99/min - First Time Callers get 3 Minutes Free!*
Read Jesse's Feedback! | Leave Feedback | Email Jesse