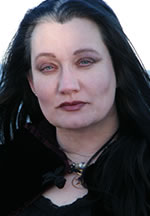 Master Psychic Jacqui Newman is a Professional Witch, Psychic and Spell Caster.

She uses the Art of Witchcraft and the Magic of Old New England to bring results to her clients.

With over 30 years of experience, Jacqui is available for a variety of mystical consultations and magical enchantments. Work with Jacqui to bring about the results you need! Jacqui Newman will reveal how to cast a spell to get what you need!

Jacqui Newman is an Expert at Reading Tarot, Casting Healing Crystals, Bones, Spells, and other ancient ways of Magic to foretell the future and get results for her clients.

Let Jacqui help bring your soul into balance, guide you through life's challenges and bring good vibrations into your love life!
Education and Experience
Jacqui Newman's intuitive psychic gifts, sharp wit, spell casting, and down-to-earth reading style enrich the experiences of her clients.

Education & Credentials

• Master Tarot Reader
• Ordained Minister
• Intuitive Counselor
• Reiki Master Healer
• Doctorate in Metaphysics
• Master Psychic Advisor

Media Appearances:

• The Travel Channel
• The Discovery Channel
• Artisan Films, Hollywood
• WFNX Radio Boston
• WAAF Radio Boston
• WXKS Radio Boston - Love Spells!
• KFAI Radio Minneapolis, MN
• KIXI Radio Seattle, WA
• North Shore Sunday
• Salem Evening News
• The Boston Globe
• The Associated Press

Jacqui Newman is unavailable ... but you can arrange a call back!



$6.99/min - First Time Callers get 3 Minutes Free!*
Read Jacqui's Feedback! | Leave Feedback | Email Jacqui