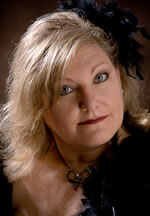 TV & FILM Medium, Robyne Marie, clairvoyant & clairaudient since age 4. As a paranormal researcher, she has worked with Police on missing persons and cold cases internationally. As a spiritual advisor, she is an Ordained Minister, welcoming all faiths - to help give guidance on Romance, Family, Career, goals and changes that come about in life. She will help bring clarity to all challenges in your life.

Star of Film and Radio, now you can experience the ancient wisdom she offers. Fourth generation Strega, Robyne Marie utilizes all of her psychic abilities. Her divine tools include the use of TAROT and CRYSTALS, where she passes on important messages and guidance to you - through channeling your own spirit guides.
Education and Experience
•Dark Force (film) - Star Medium in Bill Bean's true story
•Haunted Highway - Episode Writer & Featured Role
•Travel Channel - Currently Filming on Centralia 2013
•Monsters & Mysteries TV Series - Episode on Black Eyed Children
•R.I.P. TV Series - 2nd season
•My Ghost Story - Episode 7 #44-- Centralia on BIO. Channel
•Cross Purpose" - a chilling action-packed film in production in Los Angeles - releasing 2013.
•Ghosts A'Fire 2" in search of the Molly Maguires - Written, Directed & Produced by Robyne Marie
•Children of The Grave II" - Star Medium featured in this horror/paranormal film
•Spain Ch.4 - Ghost Hunters de Latino - 2-hr mini-series of her work on the Bridgewater Triangle
•Big Roadie - TV Show on BIGFOOT research along the Bridgewater Triangle.
• MTV Medium - Star of "Moving In"
• Star of Paranormal Documentary, "Ghosts A'fire"
• Featured Guest Speaker at SCAREFEST 2011 (KY)
• MidSouth Convention 2011 (KY)
• ComicCon NYC 2011 (NY)
• House Medium at The Haunted Victorian Mansion (Gardner, MA)
• Medium for New England Paranormal Research (N.E.P.R.)
• Previous Host of Lights Out Radio Show & a Guest on hundreds of radio shows internationally
• 28 yrs. Remote Viewing on Police Cold Cases & Missing Persons
• Over 40 yrs experience in Parapsychology - Certified at Harvard Univ. A.E.
• Certified Tested Psychic Abilities - high 90 percentile of correctness as tested by Boston University
• Degreed in Behavioral Psychology - San Diego
• Reverend Minister - Universal non-denominational
• Honor Graduate 12 yrs. Parochial School - Roman Catholic
• Youth Minister - 5 yrs. San Diego
• 4th Generation Strega Witch (green witchery)
• Certified in Numerology - studied under renown Linda Goodman
• Psychic Reader at Salem's Annual Festival of the Dead - Psychic Fair & Witchcraft Expo
• On the Board of Directors for "The School of Now" at the Child's Miracle Mind
• Author on numerous books and periodicals on topics from Victims of Crime to Haunted Houses
Robyne Marie is unavailable ... but you can arrange a call back!



$3.99/min - First Time Callers get 3 Minutes Free!*
Read Robyne's Feedback! | Leave Feedback | Email Robyne